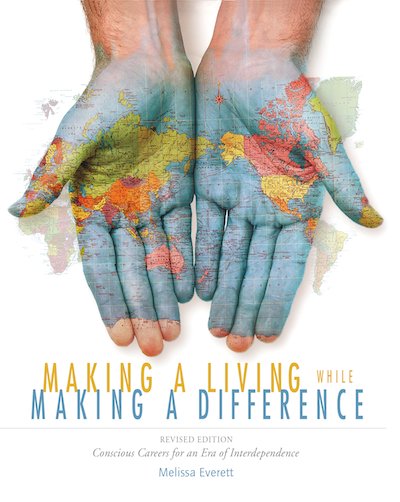 Bolder is better!
In an era of economic turbulence and a widespread crisis of trust, working people everywhere are realizing that personal success is interconnected with healthy communities and the environment. We are looking for our unique "creative edge" with work that allows us to make an impact - close to home and in the world. As business and society increasingly emphasize social and environmental responsibility, opportunities for career seekers with a conscience have never been better.
Buy the book via New Society Publishers or
Buy it for your Kindle from Amazon.com



Join our Facebook community.


from:
Interview with the Author
What is the Ten Step Program and why does it work so well?
I'm only half-joking when I say this is a way to have it all. The program works because it aligns with the creative process, first generating lots of options and then, with careful structuring and the clearest possible criteria, winnowing them down so that you come through the process not only making decisions, but being able to say why you made them. Laid out chapter by chapter, the framework rests on concerted attention to the changes you'd like to see in the world, and preparation of your personal economics and relationships for success in working as a change agent. It includes the career development basics of self-assessment, opportunity investigation, and boiling down the essence of "your work." It is distinct for its emphasis on commitment beyond the ordinary, coupled with the creative use of your support system to achieve breakthroughs.
Read More of the Interview with the Author
The award-winning third edition of Making a Living While Making a Difference provides a powerful ten step framework for career success that includes:
Finding the linkage between your talents and your passions,
Stabilizing your life with regard to time, money and relationships,
Making healthy and creative use of your support system,
Cultivating your entrepreneurial skills with courage and focus.
Today, almost everybody is lite green. This guidebook will help you show your true colors boldly and effectively.